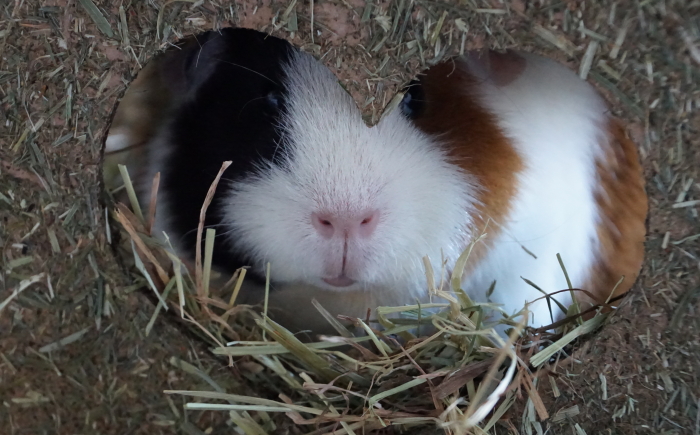 Our vision
Many pets have a fantastic life. Unfortunately, that doesn't count for all of them. Some guinea pigs are still kept alone, in small cages, without proper food or without being understood by their owners. In our shelter we welcome animals that were bought as toys for children and not interesting anymore. Guinea pigs that were dumped in boxes in the freezing cold. Owners who thought to have to females, but surprize…. Situations that are cause by lack of interest or knowledge. These are situations that the guinea pig itself didn't choose. They are completely dependant of our care.
That's why we owe it to them to offer them the best life. And one advantage is that we will enjoy our animals more as well this way.
Guinea pigs are individuals with a unique character and self-worth
Our animal shelter does not breed with guinea pigs. We believe that it's important that an adoption occurs in the benefit of the animal. That means that we keep animals that come together often are rehomed together. Sometimes this means they will stay in the shelter a little bit longer, but that's ok!
We don't castrate all males. When males get along fine together, we don't see a good reason to do so. Guinea pigs that we welcome alone will be matched to one or more other animals, as guinea pigs are group animals that need company of their own species. We can never replace that.
A large part of the guinea pigs in our shelter has a permanent home here. Most of them are too old to move again, have health problems or some challenges in their behaviour.
Our animal shelter runs on a fantastic team of volunteers. Without them, it's not possible to take good care of all animals!